Do you want to know what to use to Generate Traffic, Leads, and Sales Online?
Some of you may be frustrated, confused, and searching for answers to be successful online. There is a lot of information out there and it can get overwhelm. I like to keep it simplify the noise that you may have found on the internet. Here are the tools that I personally use and have gotten the most results from.
You know what's really frustrating and confusing? Not knowing how to generate traffic and leads! In order to do this, the first two things you should focus on is Personal Branding and Target Market. You want to learn how to attract your ideal business partners and customers.
This is why Attraction Marketing is vital for your to learn!
What better way to learn Attraction Marketing than using an Attraction Marketing System like My Lead System Pro. With MLSP you get capture pages, sales funnel, cutting training, and on top of that a way for you to earn 10 income streams.
Once you start getting leads, in order for you to start making sales, you want your leads to like and trust you. This is why Building Rapport with your list is so important!
This is where Email Marketing comes into play and what you want to use is an Email Autoresponder that's going to help you build those relationships with your leads.
I use AWeber to Build those relationships. The email delivery time is right on point and it's easy to organize different lists of leads to send certain offers.
Thrive Content Builder: Best Drag And Drop Website Builder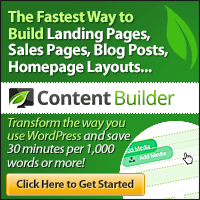 If you want to generate sales then you must start building trust from the start.
The problem with many blogs and websites is that they look plain and dull. You want to not only give your blog posts life but also you want them to look more professional.
When your blog posts have a professional look you will be able to build your brand and authority much easier. As a result, you build trust among your target audience from the get go.
How can you achieve this?
You can start by using this great drag and drop plugin for your wordpress blog called Thrive Content Builder 
With this plugin, it allows you to create more professional, engaging blog posts that will give your visitors a better user experience on your site.
In This Thrive Content Builder Review I go into more detail of some of the features it has and how they can benefit your blog posts and pages.
Thrive Leads: List Building Program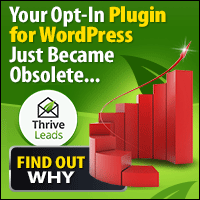 The money is in the list!
Have you heard this saying? Well it's true. If you build a list of already interested visitors, aka subscribers, through your blog, then you can build trust and eventually generate sales.
But you'll need a plugin that's going to be the gateway for your blog visitors to be converted into subscribers. You'll need some type of opt in forms that will allow your visitors to become subscribers on your email list.
When it comes to building a successful blog, one thing you want to have is Social Proof.
Why?
Because you want to show how trustworthy you are and how popular your blog is. It's almost like you're in high school. Everyone wanted to be around the popular kid.
One way to do this is to show how many times your blog posts have been shared on Social Media. You can do this by installing a Social Media Plugin for your blog.
A great plugin that I have been using is
Social Warfare. 
This is an all-in-one plugin that allows your visitors to easily share your blog posts on Social Media. If you want to know more about this incredible plugin,
Click Here
to read a
Review of Social Warfare
One way to brand yourself well is through Blogging. I personally use a free program called WordPress.Org. In order for it to really get it going, you must have a great Web Host.
I use GoDaddy. The one thing I really like about GoDaddy is the Customer Service. Not knowing how to set up a blog and integrate it with them, they tech team guided me step by step without getting frustrated with me. That really means a lot!
A Step-By-Step Guide To Increasing Your Blog's Traffic

A Step-By-Step Guide To Increasing Your Blog's Traffic via BloggingWizard.com